Using Atlas to Support the QSAC Process in New Jersey
The goal of Atlas is to meet the unique needs of educators as they articulate and manage their curriculum. Atlas can be configured to support the QSAC process requirements for schools and districts in New Jersey, and provides a unified platform for curriculum to be developed, documented and refined.
Access more Atlas resources for supporting New Jersey schools as they prepare and plan for QSAC!
Depending on where you are in the QSAC process and adopting the new standards, you will need different resources to support your work. We have compiled a variety of options for you to use.
Ideas that Spark
From blogs to webinars, we have you covered!
For the past 10 years, we have been supporting New Jersey schools as they develop curriculum and processes in alignment with QSAC review. Through our conversations, resources have been created and we hope that you find them helpful on your QSAC journey!
Helpful hints to guide your curriculum work
We are excited to share this resource for everyone working to align NJ curriculum to the 2020 NJSLS! Consider these steps to guide your curriculum work and make sure to pay special attention to
Grade Band Shifts

Practices

NJ Statutes

Climate Change Integration

Assessments
Watch and learn!
Check out our on-demand webinars: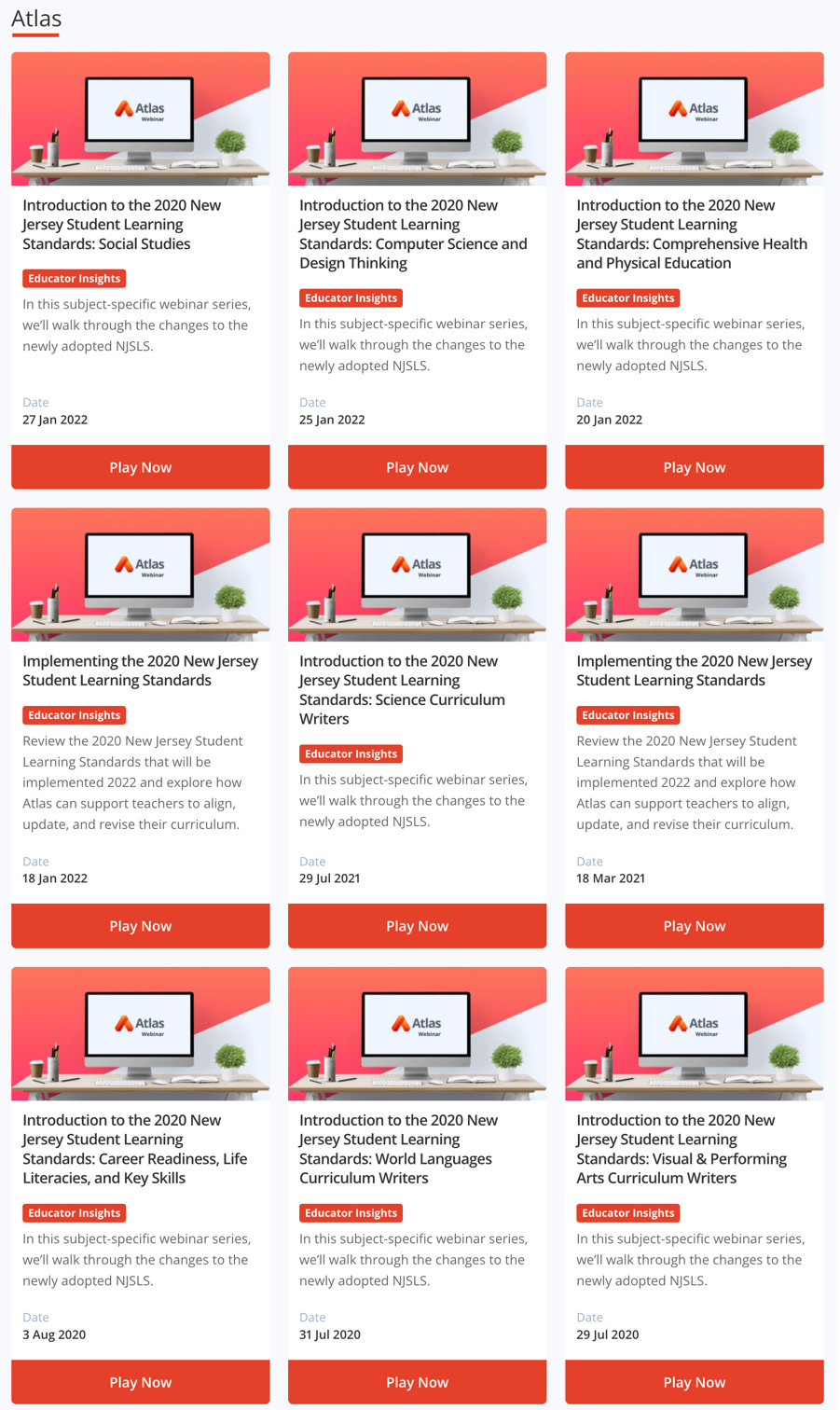 Achieve Your Curriculum Writing Goals
Flexible and Dynamic Sessions
We know that the implementation of the 2020 New Jersey standards are right around the corner! Partner with Atlas and FariaPD to get a head start on your curriculum writing and be confident that you are providing strong and supportive leadership and guidance to teachers during these unique times.
A few objectives from some of our professional development packages:
Support school leadership in getting organized for curriculum writing and review

Provide basic curriculum writing skills and context to curriculum writers as a refresher course

Prepare teachers for curriculum writing responsibilities within their school and/or department
NJ Leadership Planning for Summer Curriculum Writing
March 8, April 5, and May 3, 2022
Get ready for fall 2020 NJSLS implementation! Join us and create a plan to maximize your summer curriculum writing efforts.